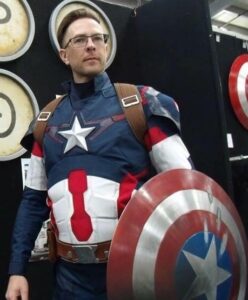 WHO IS TYPE 40?
Type40 is a dedicated team of creative people, including prop makers, illustrators, editors, writers and designers. Type40 designs and builds the highest quality, physical and digital, in world artefacts for gamers, collectors and enthusiasts. We have made items for people such as Stan Lee, Chris Hemsworth and many others all over the world.
Headed by Allan Carey, an award winning artist, Allan uses his background as a qualified engineer, carpenter and set builder to make every item the best it can be, and his work has been featured in films and advertising, art galleries and museums.
Working closely with Chaosium, Type40 are licensed to create both physical and digital inworld artefacts for the Call of Cthulhu and RuneQuest tabletop roleplaying games. Type40 also write and produce the Seeds of Terror range of scenarios for Call of Cthulhu, which are published on DrivethruRPG.
Other services we offer include art direction, design, illustration, editing, layout and 3d modelling. If we can assist you with any of these services, please contact us at info@type40.com.au
You can see Allan's portfolio of physical props by visiting Instagram.
Our full range of digital assets for Call of Cthulhu will be available soon.
You can see his portfolio
here
.
Let's Make Things!